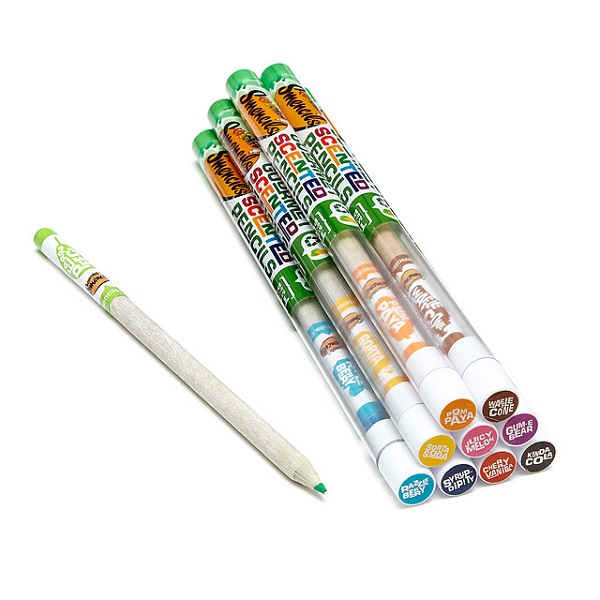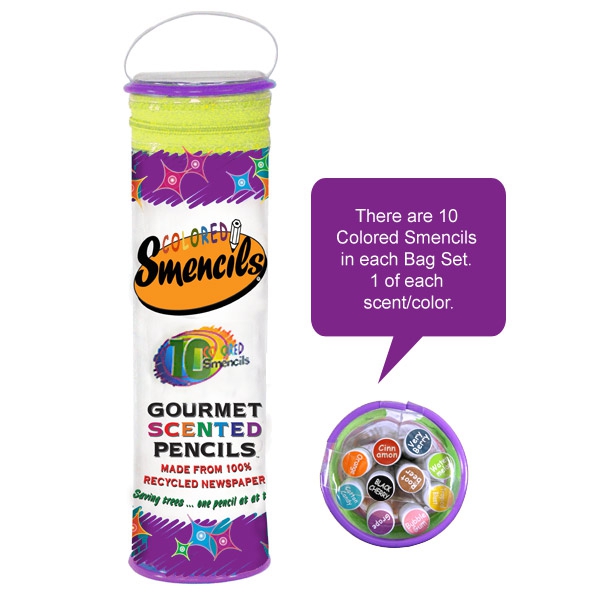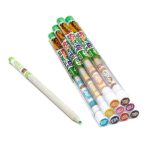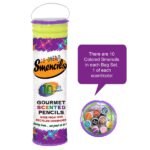 Colored Smencils (Bag of 10)
Estimated Delivery: 1 - 3 days
SKU: 16704
The world's only gourmet scented colored pencils made from recycled newspapers. They are 10 colored smencils in each bag set. Each colored smencil has a different scent.
How eco-friendly is this product?

Chemical Free
No chemicals, toxins, dyes or additives are used in the manufacturing process of this product.

Recycle
This product has been produced using old material converted into new or it is recyclable and does not add to the landfill.

Wood Free
This product is manufactured without use of any natural wood. No Trees were cut during the manufacturing process.
In Stock
Guaranteed safe & secure checkout
Description
Being responsible for the environment is an important part of doing business in today's world. These pencils are made from rolled sheets of newspapers rather than wood! You can see the layers of the newspapers when you sharpen the pencils. They sharpen the same as all other pencils, smell great and are good for the environment too! SAVE A TREE . . . . . . one pencil at a time!
WHY THIS GETS THE ECOSTORE SEAL OF APPROVAL: 

Recyclable
Made from recycled newspapers
100% wood free
100% ecofriendly
Additional information
HOW ARE SMENCILS MANUFACTURED?

Recycled Newspapers are rolled  tightly around the colored writing cores
Then they're hardened
The pencils are then soaked into gourmet liquid scents
The pencils are dried and each Smencil is put into a corn-based biodegradable plastic freshness tubes
 WHAT ARE THE 10 SCENTS USED?
Bubble Gum, Cinnamon, Tropical Blast, Grape, Cotton Candy, Very Berry, Black Cherry, Orange, Watermelon and Rootbeer
 WHAT ARE THE 10 COLOURS OF THE SMENCILS?
Pink, Red, Yellow, Purple, Lt Blue, Dk Blue, Black, Orange, Green and Brown
HOW LONG WILL THE SCENTS LAST?
Smencils will maintain their scent for 2 years – in or out of their freshness tubes.
PACKAGING
In a BAG SET – 10 Smencils, 1 of each scent and color
Delivery
UAE Shipping
We offer free delivery within UAE on all orders over AED 200. For orders less than AED 200, a flat delivery rate of AED 18 will apply.
For International Shipping, we ship to US, Canada, UK, Europe, Far East, India & all GCC Countries. Shipping costs will be added at check-out. For all other countries, please email contactus@thegreenecostore.com with the Item Codes and we will quote you, prior to shipment.
Return & exchange
You can return most products (except masks, bottles, stickers & feminine care) to us within 7 days for an exchange or refund. All returns must be delivered to our office in original/unopened packaging and is the responsibility of the customer.
Assistance
Email us at contactus@thegreenecostore.com