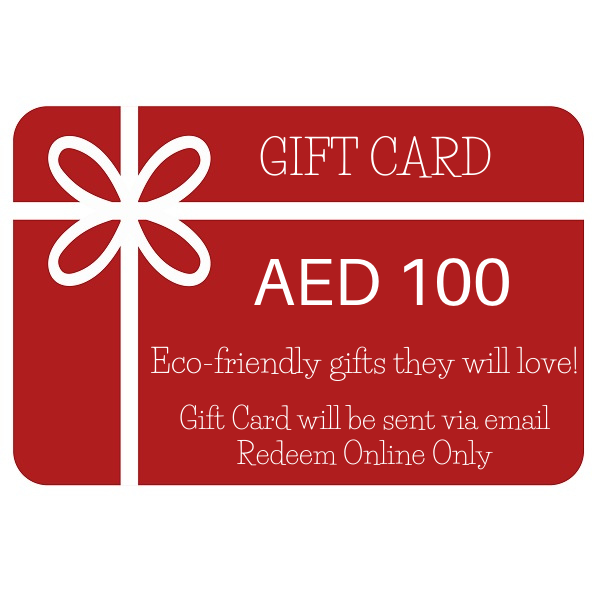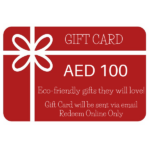 Estimated Delivery: 1 - 3 days
SKU: 28772
Order this Gift Card today! Let us know the email address and name of the person you would like to send it to and we will organise the rest! We will instantly email the recipient an e-giftcard with value AED 100, and they will be able to use it on our site anytime within the next 6 months. (price includes VAT).
How eco-friendly is this product?

Reusable
This product is reusable and can be reused multiple times before being discarded.

Sustainable
The raw materials used in the production, are replanted or replenished, while preserving natural resources for future generations. Eg Trees cut are replanted.
In Stock
Guaranteed safe & secure checkout
Description
Surprise a friend or family member, by gifting them a Gift Card from our store!
-Can be used anytime within 6 months from date of issue!
-Can shop online across our site
-Access to a variety of Ecofriendly products for the entire family
-Quick delivery of orders across UAE or worldwide
Once purchased, the gift card will be sent automatically via email to the recipient or if you want, you can get the gift certificate sent to your email and can then forward it to the recipient. NOTE – All Gift cards are non-refundable, non-transferable and not redeemable for cash.
Delivery
UAE Shipping
We offer free delivery within UAE on all orders over AED 200. For orders less than AED 200, a flat delivery rate of AED 18 will apply.
For International Shipping, we ship to US, Canada, UK, Europe, Far East, India & all GCC Countries. Shipping costs will be added at check-out. For all other countries, please email contactus@thegreenecostore.com with the Item Codes and we will quote you, prior to shipment.
Return & exchange
You can return most products (except masks, bottles, stickers & feminine care) to us within 7 days for an exchange or refund. All returns must be delivered to our office in original/unopened packaging and is the responsibility of the customer.
Assistance
Email us at contactus@thegreenecostore.com