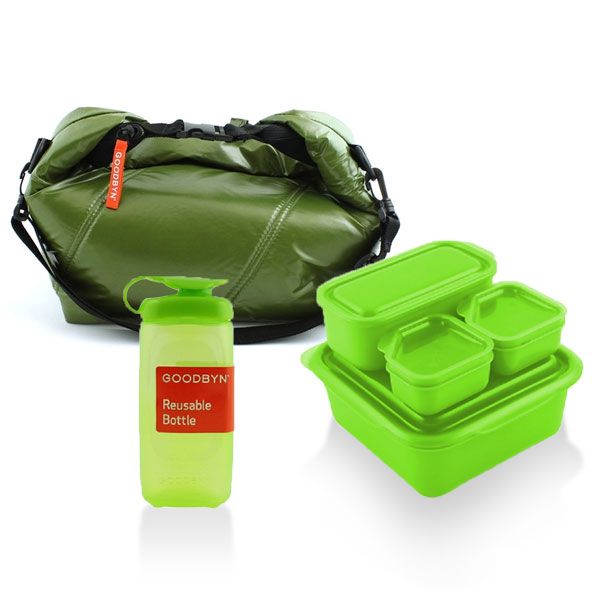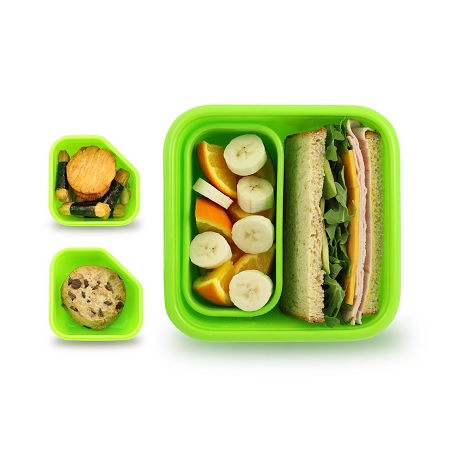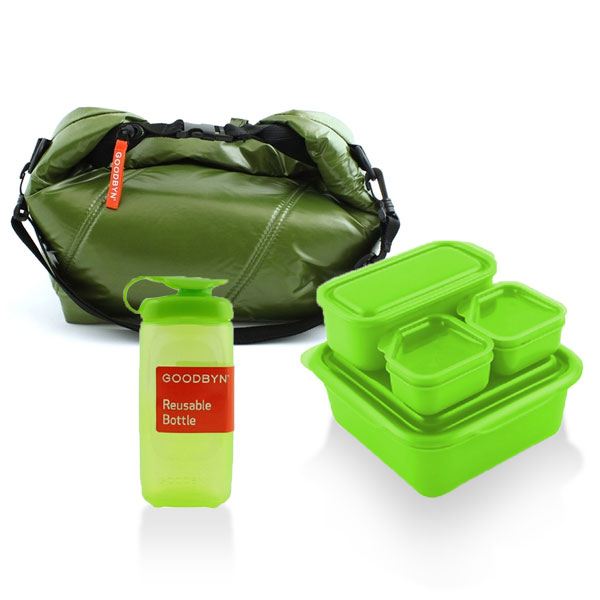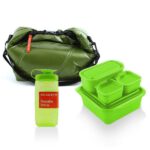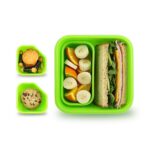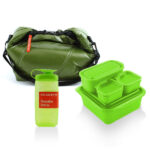 Goodbyn School Lunch Set Green
Estimated Delivery: 1 - 3 days
SKU: 21740
Very Popular! As it comes with a Goodbyn Portions On-the-Go food containers, a water bottle (8oz,) and a nifty bag to store it all!  This ecofriendly lunchbox promotes conservation by reducing disposable containers and a healthy diet by encouraging home made meals. It does away with plastic baggies and drink boxes.
How eco-friendly is this product?

BPA Free
The product does not contain/include Bisphenol A (BPA), which can be hazardous to humans.

Chemical Free
No chemicals, toxins, dyes or additives are used in the manufacturing process of this product.

Recycle
This product has been produced using old material converted into new or it is recyclable and does not add to the landfill.

Reusable
This product is reusable and can be reused multiple times before being discarded.

Sustainable
The raw materials used in the production, are replanted or replenished, while preserving natural resources for future generations. Eg Trees cut are replanted.
In Stock
Guaranteed safe & secure checkout
Description
This Lunch set comes wth a Goodbyn Portions On-the-Go, Water Bottle and a bag to store it all! The Portions On-the-Go containers is a value-priced set of food containers designed with perfect versatility. One Salad or Sandwich, one long dipper, plus two 2.6 oz dipper containers. Made entirely of FDA-approved materials, no BPAs, BPSs or phthalates and dishwasher-safe. Goodbyn Portions On-the-Go does away with wasteful plastic bags. And the Goodbyn Bottles (8oz.) fit in the middle compartment.
WHY THIS GETS THE ECOSTORE SEAL OF APPROVAL: 

Reusable
BPA Free, PVC free and Phthalates free
Made from FDA-approved materials. Made of #5 PP (polypropylene)
Ecofriendly
Recyclable
Additional information
What the Hero fits?
Top container: Perfect for leftovers, a sandwich, sliced apples, oranges, even a banana.
Middle compartment: Fits the eight-ounce drink bottle on its side (sold separately), or additional food.
Bottom container: Fits sandwich halves, bagel, pasta salad, chips, yogurt or cereal.
Delivery
UAE Shipping
We offer free delivery within UAE on all orders over AED 200. For orders less than AED 200, a flat delivery rate of AED 18 will apply.
For International Shipping, we ship to US, Canada, UK, Europe, Far East, India & all GCC Countries. Shipping costs will be added at check-out. For all other countries, please email contactus@thegreenecostore.com with the Item Codes and we will quote you, prior to shipment.
Return & exchange
You can return most products (except masks, bottles, stickers & feminine care) to us within 7 days for an exchange or refund. All returns must be delivered to our office in original/unopened packaging and is the responsibility of the customer.
Assistance
Email us at contactus@thegreenecostore.com