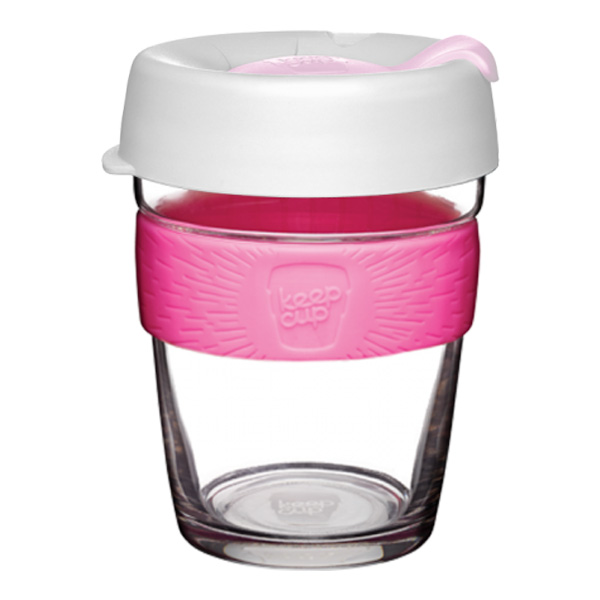 KeepCup Brew Hazel
AED 90.00
Made from fully tempered, toughened soda lime glass, 12oz KeepCup Brew is designed for a premium coffee experience. Take the café experience with you at home, to work or on the move. The Hazel comes with a Flamingo Fluro band, White lid and Pashmak Pink plug. It is Dishwasher and Microwave safe.
How eco-friendly is this product?

BPA Free
The product does not contain/include Bisphenol A (BPA), which can be hazardous to humans.

Chemical Free
No chemicals, toxins, dyes or additives are used in the manufacturing process of this product.

Recycle
This product has been produced using old material converted into new or it is recyclable and does not add to the landfill.

Reusable
This product is reusable and can be reused multiple times before being discarded.

Sustainable
The raw materials used in the production, are replanted or replenished, while preserving natural resources for future generations. Eg Trees cut are replanted.
In stock
Estimated Delivery:
1 - 2 days
Description
The Keepcup Brew is a 12oz (340ml) reusable glass coffee cup and is designed to be reused for years. Over one year the Keepcup, when compared to disposable cups, reduces landfill by 99%. Available in multiple colors. People purchase KeepCups because they love the way they look and feel, and continue to use them because they form a positive habit.
WHY THIS GETS THE ECOSTORE SEAL OF APPROVAL:

Can be reused over and over and over again…..
Over a year, use of a Keepcup reduces greenhouse gas emissions by upto 92% compared to disposable cups!
Every Keepcup can be recycled
Designed to last for upto 3 years
Makes a wonderful present!!
Specifications
KeepCup products are designed to replace the disposable cup – not a thermos. They have a splash proof, not a leak proof, seal.
KeepCup Brew was created to deepen the sensory experience of the coffee ritual. Glass is tempered, which means it's tough – but it's not unbreakable. A drop, or rapid temperature changes may break or shatter the glass. Do not put cold liquids into a hot glass, or place on a wet cold surface when hot.
– Dishwasher safe on the top shelf.
– Lid off can be heated to 110 degrees.
WHY NOT DISPOSABLE CUPS?
There is the same amount of plastic is 28 Disposable cups as in a Single KeepCup.
KeepCup is also less plastic. Disposable cups are lined with polyethylene and have a polystyrene lid, so there is enough plastic in 28 disposable cups to make one small KeepCup.
KeepCup is a great way to reduce the use of disposable cups, given they are recyclable. Disposables promote a throw-away culture, whereas, the KeepCup promotes reuse and sustainability.
Join the REUSE REVOLUTION
The KeepCup breaks even after 15 uses!
The KeepCup is made in industry standard sizes
KeepCups seal complete to keep your coffee hot & splashproof
Dishwasher safe & Microwaveable
BPA Free & non-toxic
Every minute over 1 Million Disposable cups are added to the landfill
Unbreakable!
| | |
| --- | --- |
| Weight | 0.270 kg |
| Dimensions | 2.5 × 4.5 in |
Delivery
Shipping
We offer free shipping within UAE on all orders over AED 200. For orders less than AED 200, a flat delivery rate of AED 16 will apply.
Return & exchange
You can return most products (except masks, bottles & feminine care) to us within 7 days for an exchange or refund. All returns must be delivered to our office in original/unopened packaging and is the responsibility of the customer. 
Assistance
Email us at contactus@thegreenecostore.com
Only logged in customers who have purchased this product may leave a review.