KeepCup Brew
KeepCup Brew has a tempered Glass for durability, an improved lid and a plug that seals, keeping your coffee hotter for longer. The splash-proof design is safer than disposable or open cups and OH & S compliant. The lid & plug are BPA-free, colourful and dishwasher safe. Fits in car cup holders. Now available in 2 sizes – Small (8 oz) & Medium (12 oz). Your logo is printed on the Band or the Glass Cup.
You can choose any color combination for the Lid, Plug & Band. Email us at contactus [at] thegreenecostore.com
Minimum order for logo branding: 300 pcs
TurnAround Time: 5 Weeks
Why Reuse?
Transform your team from disposable drinkers into habitual reusers.
KeepCup is used as a corporate gift by Corporates, Businesses and  Non-Profits globally. FAST FACTS
Every minute over one million disposable cups are discarded to landfill. KeepCups are reusable, not disposable. Single use items account for over half of the plastic used in the world today. Reduction of goods we consume has a dramatic effect on reducing our environmental footprint. Be mindful of where you put your brand; throwaway items suggest a throwaway culture. To date, we estimate KeepCup users have diverted over 3.5 billion disposable cups from landfill.
We believe good actions create good habits, and that we are all driven by a common desire to act mindfully and positively. Through our own actions, we inspire others to be the change they wish to see in the world.
CUSTOMIZATION OPTIONS
Band Print Specifications
Minimum order quantity for branded KeepCup Original/Brew is 250 units

Minimum order quantity for branded DEBOSS KeepCups is 1000 units

Screen Printing dimensions on the silicone band is 19mm x 50mm

All artwork to be in solid colors. No tones or gradients.
All artwork to be provided as eps/ai files
Can print upto 5 colors artwork but cost goes up

Minimum order requirements applicable for all branding orders

Glass Print Specifications
 Branding works best with solid colours, no tones or gradients

 Branding options on the Brew are Glass print, Deboss, 1 color, 2 color or 3 color
 Artwork space is 50x14mm for 8oz, 50x24mm for 12oz. The logo is pad printed onto the glass.

 Please supply all graphics in vector format (ai or eps)

 Lead time for printing and supply is 5-6 weeks

 Pantone colour matching can be done for orders of 5000+ units

 KeepCup logo must remain on one side of the band.

 Printing area is on opposite side to KeepCup logo

 All printing is heat treated, so it will not rub off or deteriorate with use.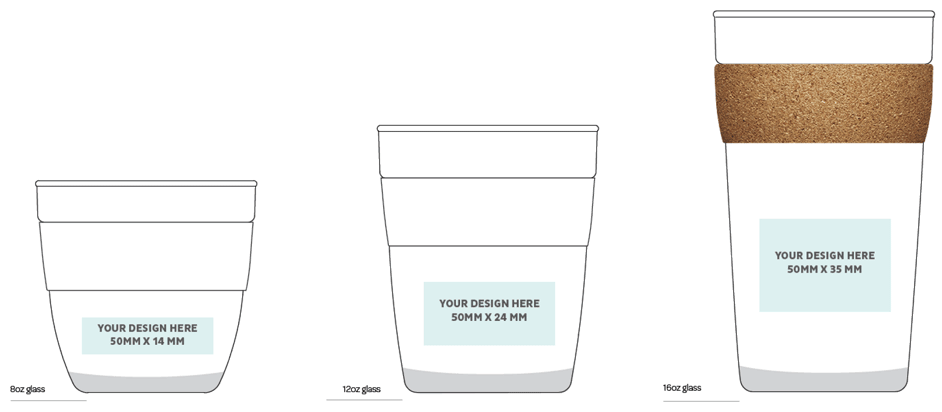 CUSTOM SAMPLES