Plantable Seed Paper
Each sheet is 11″ x 17″ and is embedded with Canadian Wildflowers. Wildflower Seed Mix: Grows a blend of colorful wildflowers including Bird's Eye, Clarkia, Black Eyed Susan, Sweet Alyssum, English Daisy, Catchfly and Snapdragon. The seed paper is comparable to an 85 lb cover weight but varies slightly in thickness. Email us at contactus [at] thegreenecostore.com
It has smooth, trimmed edges and can be used for professional offset printing, as well as home or office printing using a top loading inkjet printer. As we cannot guarantee quality prints with all printers, we recommend ordering a few sheets to test first.
Colors available are – white, cream, pastel blue, pastel pink, lime green and latte brown.
Minimum order: 100 sheets
Turn Around Time: Immediate, if ex-stock. Or 3 weeks, if order is to be placed.
Product Features
Why use Seed Paper?
This seed paper is made with post-consumer material, meaning that no new fibers were used in the production of this paper. And because when the paper itself is planted, it composts away leaving only wildflowers (or herbs, or vegetables) and NO WASTE!
Plantable paper is special handmade paper embedded with wildflower seeds. When the paper is planted in a pot of soil, wildflowers will grow from the paper. We recommend planting the seed paper only during the months of Sept – April due to the hot summer months in the Middle East region. For best germination results, the paper should be planted within 2 years.
Please note that because our paper is made by hand, there may be a slight variation in the thickness from sheet to sheet. Due to the post-consumer waste fiber content, a slight variation in the shade of the paper may also occur.
Recommended Printing Methods?
When printing on plantable paper, we recommend using one the following methods of printing:
Inkjet (preferred for home or office)
Offset printing press, 1, 2 or 4 color
Screen printing
Letterpress
Digital Printing
CUSTOMIZATION OPTIONS
Seed Paper can be used to print – Calendars, Business Cards, Invitations, Notepads, Greeting Cards, Menu Cards, Coasters, Bookmarks, Journals, Tent Cards, Wristbands, Gift Certificates, Gift Cards, Event Stationery and so much more.
Offset Printing
Most of our double thick stock's caliper is around 20 – 22 pt. Use a micrometer as you would with any stock.
Heating the seed-embedded paper can affect the seed germination, therefore we recommend turning off IR lamps. To assist with the drying process, add dryer to the ink.
Waterless Offset is preferable to conventional.
To ensure accurate alignment, we recommend printing 4-color jobs on a 4-color press, rather than doing two passes on a 2-color press.
Screen Printing
You can screen print on seed paper but you'll see some white around the seeds as the surface is not perfectly flat. The use of a soft squeegee is recommended.
Inkjet Printing
If you're not a professional printer and plan to print on the seed paper yourself at home or at the office, we recommend using a top loading inkjet printer for best results. Below are a few things to keep in mind:
Use an inkjet printer that has a straight paper path that doesn't bend the paper over itself when feeding (most HP desktop printers do this).
Because of the varying thickness of this special paper, you may have to help your printer feed the sheets through when it tries to grab a sheet by holding the paper straight. Don't expect to be able to put a pile of paper in the rear tray and walk away! Most desktop printers are designed with plain paper in mind, which slides easily. The seed paper does not slide easily so, therefore, you have to watch and occasionally help the printer along.
Some machines will have a setting for less abrasion, which means thicker paper. This setting will lessen the chance of a head strike, which appears as smudges on the paper.
Test your print settings to see what works best for your design. If you have heavy ink coverage, be sure to print on HQ settings and always run a test print.
Letterpress Printing
Letterpress may crush some of the seeds so germination may be affected, especially when the seeds are larger like some of the herb or veggie seeds. Try to use ink that is low tack.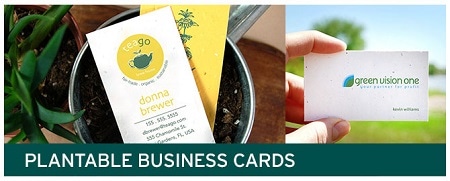 CUSTOM SAMPLES