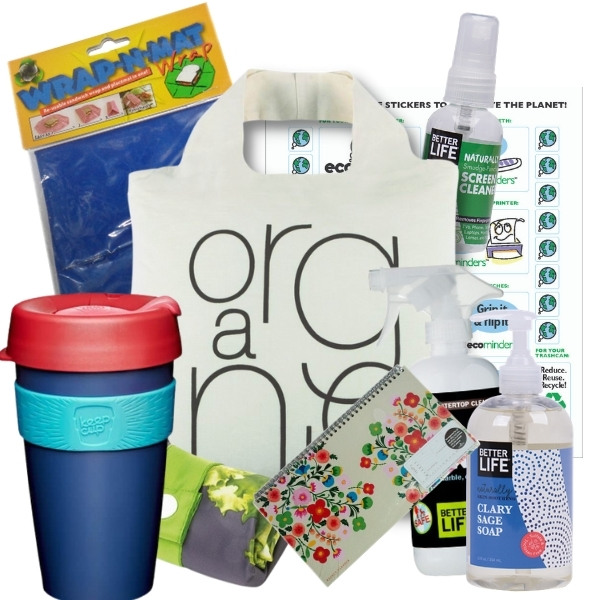 Eco Starter Kit Hamper
AED 295.00
This starter kit gives you a little of everything to help you go green – a bag to use while you shop, green cleaning in your home, coffee cup for the trip to the barista and wrap n mat to use at lunch while sitting on your desk at work and a weekly planner as well.
How eco-friendly is this product?

Biodegradable
This product can be decomposed by bacteria or micro organisms, it avoids the landfill and does not add to pollution.

BPA Free
The product does not contain/include Bisphenol A (BPA), which can be hazardous to humans.

Chemical Free
No chemicals, toxins, dyes or additives are used in the manufacturing process of this product.

Reusable
This product is reusable and can be reused multiple times before being discarded.

Sustainable
The raw materials used in the production, are replanted or replenished, while preserving natural resources for future generations. Eg Trees cut are replanted.
In stock
Estimated Delivery:
1 - 2 days
Description
This Eco-friendly hamper contains all goodies ranging from reusable coffee cup, shopping bags, reusable stickers for the house, household cleaning items and a weekly planner all delivered to you in a non-woven bag made from recycled material. A LITTLE GREEN GOES A LONG WAY.
WHY THIS GETS THE ECOSTORE SEAL OF APPROVAL: 

All items are reusable, bpa-free or biodegradable
100% eco-friendly
Specifications
Looking to start going green? Well, we have created a special earth friendy Eco Starter Kit, just for you!
Its packed with goodies that are all eco-friendly and will be your first step to living green. So go ahead – try it today. Its the perfect gift for a house warming or that little surprise for a friend or even for yourself.
The contents of Our Eco Starter Kit are :
A reusable small coffee KeepCup
A resuable designer grocery bag that can hold upto 40 Lbs
Liquid hand soap with clary sage
A weekly planner
Take it for Granite – a counter top cleaner – completely toxin-free
Screen Cleaner – toxin free for LCD screens, mobiles, tablets and eyeglasses
A BPA-free water bottle 1 ltr
Wrap-n-Mat sandwich wrap for office, school or picnics that serves as a mat and a sandwich wrap
Reusable Eco stickers for the Office andHome, that remind you to "switch off the lights", "turn off your printer" etc
All the above comes in a nifty green bag, that is foldable and can be stored and reused
Delivery
Shipping
We offer free shipping within UAE on all orders over AED 200. For orders less than AED 200, a flat delivery rate of AED 16 will apply.
Return & exchange
You can return most products (except masks, bottles & feminine care) to us within 7 days for an exchange or refund. All returns must be delivered to our office in original/unopened packaging and is the responsibility of the customer. 
Assistance
Email us at contactus@thegreenecostore.com
Only logged in customers who have purchased this product may leave a review.