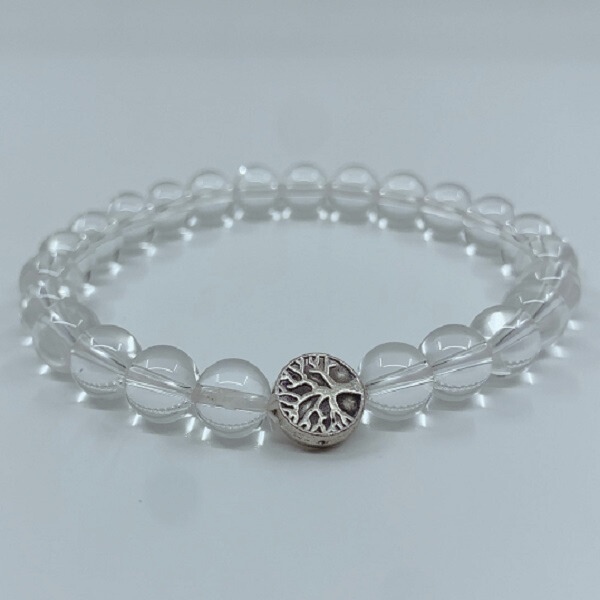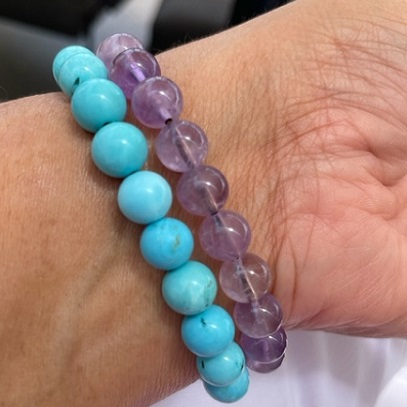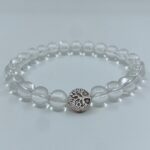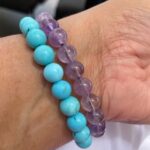 Clear Quartz Healing Crystal Bracelet
Estimated Delivery: 1 - 3 days
SKU: 15403
Clear Quartz healing crystals have been in use for thousands of years. Clear Quartz is a powerful crystal that is transparent in color. Clear quartz crystal is known for having high vibrations.
It is known as the "power stone" as it attunes you to your higher self and is exceptionally beneficial for manifesting, meditation and channeling. It is considered the most useful crystal to use in crystal healing because it is a blank slate that can be programmed with your intention.
Clear Quartz is used to cleanse, open, activate and align all the Chakras. It purifies you on all levels – emotional, spiritual, mental and physical.
How eco-friendly is this product?

BPA Free
The product does not contain/include Bisphenol A (BPA), which can be hazardous to humans.

Reusable
This product is reusable and can be reused multiple times before being discarded.

Sustainable
The raw materials used in the production, are replanted or replenished, while preserving natural resources for future generations. Eg Trees cut are replanted.

Wood Free
This product is manufactured without use of any natural wood. No Trees were cut during the manufacturing process.
Guaranteed safe & secure checkout
Description
It is amplifies any energy or intention and is known as the stone of power. It protects against negativity, relieves pain and attunes to your higher self. It can clear the mind, body and spirit of all clutter.
Clear Quartz can help stimulate the immune system and balance your entire body. With focused concentration in meditation, you can set your crystal to assist you with your desired goal, be it manifestation or healing. Other than appearing clear to the eye, this stone is also believed to bring clarity to those who carry it.
You can wear the bracelet or alternatively, carry it in your pocket or purse. This is ideal for when you're facing a tough decision – reach for your quartz and let it enhance the clarity of the mind.
All our crystal beads are AAA grade.
Additional information
HOW TO WEAR IT
Wear it on your left hand to receive the energy of the crystal.
DETAILS
Dimension – Bracelet for Men – 23 Beads | Bracelet for Women – 21 Beads
Bead size – 8mm
Weight – 20 gms (approx.)
Crystal – Clear Quartz 100% natural beads in adjustable elastic bands.
The Bracelet will come with easy to follow, instructions on how to charge your bracelet before wearing it. All crystal products are handmade and may slightly differ from the image in terms of weight and color. All natural crystals may come with slight minor inclusions or imperfections. These are NOT  manufacturing defects. The charm used in the bracelet may differ from the actual product shown.
All our Crystal Healing Bracelets are non returnable.
| | |
| --- | --- |
| Weight | 0.020 kg |
| Select Bracelet Size | Men's Bracelet, Women's Bracelet |
Delivery
UAE Shipping
We offer free delivery within UAE on all orders over AED 200. For orders less than AED 200, a flat delivery rate of AED 18 will apply.
For International Shipping, we ship to US, Canada, UK, Europe, Far East, India & all GCC Countries. Shipping costs will be added at check-out. For all other countries, please email contactus@thegreenecostore.com with the Item Codes and we will quote you, prior to shipment.
Return & exchange
You can return most products (except masks, bottles, stickers & feminine care) to us within 7 days for an exchange or refund. All returns must be delivered to our office in original/unopened packaging and is the responsibility of the customer.
Assistance
Email us at contactus@thegreenecostore.com