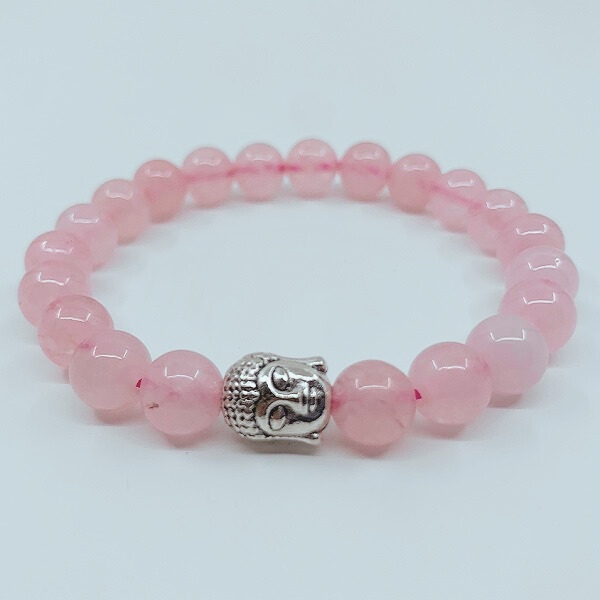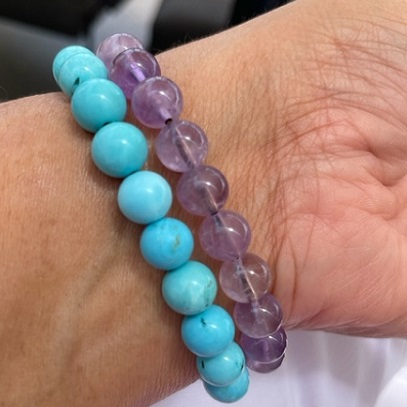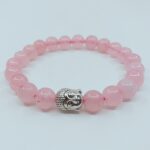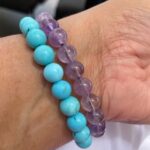 Rose Quartz Healing Crystal Bracelet
Estimated Delivery: 1 - 3 days
SKU: 15320
Rose Quartz healing crystals have been in use for thousands of years. Rose Quartz is a crystal of unconditional love and self-love! Rose Quartz brings deep healing to the heart by opening up the Heart Chakra. It helps you let go of heartbreak, disappointment, and betrayal so you can learn to trust and love again. It can inspire an attitude of kindness and compassion and promotes mutual understanding with your partner/friends/relationships. It also boosts neuron activity.
Rose Quartz helps you connect to your Heart Chakra.
How eco-friendly is this product?

BPA Free
The product does not contain/include Bisphenol A (BPA), which can be hazardous to humans.

Reusable
This product is reusable and can be reused multiple times before being discarded.

Sustainable
The raw materials used in the production, are replanted or replenished, while preserving natural resources for future generations. Eg Trees cut are replanted.

Wood Free
This product is manufactured without use of any natural wood. No Trees were cut during the manufacturing process.
Guaranteed safe & secure checkout
Description
Rose Quartz is a powerful crystal that is pale pink. It improves the vibration of love in your life.  It helps in healing broken relationships. Rose Quartz brings healing to the physical and mental health of a person by releasing emotional blockages. It gives you a deeper state of calmness, serenity, peace and that encourages feelings of happiness and contentment.
Rose quartz wards off negativity, and when carried on your person, helps to replace negative emotions with positive, returning the wearer to that place of pure love and balance. It improves your love life as it calms down all hyper energies!
Rose Quartz is a good birthstone for January or May born and Taurus Zodiac. All our crystal beads are AAA grade.
Additional information
HOW TO WEAR IT
Wear it on your left hand to receive the energy of the crystal.
DETAILS
Dimension – Bracelet for Men – 23 Beads | Bracelet for Women – 21 Beads
Bead size – 8mm
Weight – 20 gms (approx.)
Crystal – Amethyst 100% natural beads in adjustable elastic bands.
The Bracelet will come with easy to follow, instructions on how to charge your bracelet before wearing it. All crystal products are handmade and may slightly differ from the image in terms of weight and color. All natural crystals may come with slight minor inclusions or imperfections. These are NOT  manufacturing defects. The charm used in the bracelet may differ from the actual product shown.
All our Crystal Healing Bracelets are non returnable.
| | |
| --- | --- |
| Weight | 0.020 kg |
| Select Bracelet Size | Men's Bracelet, Women's Bracelet |
Delivery
UAE Shipping
We offer free delivery within UAE on all orders over AED 200. For orders less than AED 200, a flat delivery rate of AED 18 will apply.
For International Shipping, we ship to US, Canada, UK, Europe, Far East, India & all GCC Countries. Shipping costs will be added at check-out. For all other countries, please email contactus@thegreenecostore.com with the Item Codes and we will quote you, prior to shipment.
Return & exchange
You can return most products (except masks, bottles, stickers & feminine care) to us within 7 days for an exchange or refund. All returns must be delivered to our office in original/unopened packaging and is the responsibility of the customer.
Assistance
Email us at contactus@thegreenecostore.com